Chemical shift calculations of α-amino acids and peptides
Protein/peptide NMR structure determination could be speed up by using chemical shift information to establish backbone folding units. Especially, two- and three-dimensional NMR spectra can be useful in this respect. Our results suggest that such methods are viable because relevant correlations between backbone fold and 1Hα and 13Cα chemical shift values can be found. Our calculation methods comprise the GIAO-RHF formalism with the 6-31+G* and TZ2P basis sets. This indicates that the Ha, Ca, and Cb chemical shifts of alanine depend
considerably on the backbone fold of the parent residue also in proteins.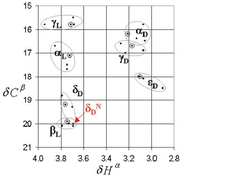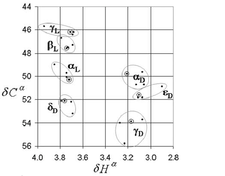 ---
Kapcsolódó publikációk