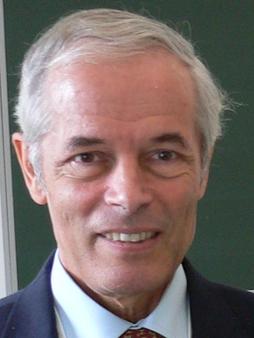 Dr. Gábor Náray-Szabó full professor
Address: H-1518 Budapest,112 Pf.32 (Hungary)
Studies
1961-63 University of Chemical Engineering, Veszprém
1963-67 M.Sc. Eötvös Loránd University, Budapest
1973 Candidate of Sciences, Hungarian Academy of Sciences
Posts Held
1967-1990 Research Fellow then Head of Scientific Information Department and Library, CHINOIN Pharmaceutial and Chemical Works, Budapest
1990 Managing Director, BIONAVION Biochemical R&D Ltd., Budapest
1991-2013 Professor of Chemistry, Theoretical Chemistry Laboratory, Eötvös Loránd University, Budapest
1996-1999 Deputy Secretary General, Hungarian Academy of Sciences
2001-2002 Deputy Secretary of State, Ministry of Education
2006-2013 Director General, Library of the Hungarian Academy of Sciences
Past or present membership in the Editorial Board of six international journals, referee in twenty journals
Actual courses
2013/I Molecular modelling
2013/II Is development sustainable?
Teaching experiences
1984 titular professor, Eötvös Loránd University, Budapest
1983-1995 Applied quantum chemistry course
1995- Molecular modelling course
2005- Is development sustainable? course
Supervision of M.Sc. theses for Tibor Balogh, Attila Bérces, Sándor Biszak, Timea Gérczei, Veronika Harmat, Krisztina Kádas, Tamás Korányi, Zoltán Kovári, György Kramer, Dóra Karancsi-Menyhárd, Jenő Nagy, Tamás Nusser, János Samu jr., Zsolt Szalóczy, László Turi
Research
Development of the Fragment Self-Consistent Field Molecular Orbital method for very large covalent systems
Electrostatic catalysis
Protein crystallography
Quantum chemical study of enzyme mechanisms
Research experiences
Prof. W. Bingel (Göttingen University, 1971)
Prof. A. Warshel (University of Southern California, 1988)
Prof. P. Mezey (University of New Foundland, 2005)
Publications
Scientific publications: More than 250 publications in refereed journals, 8 books on theoretical chemistry, computer-aided molecular design, structural biology, professional affairs and sustainability, which are cited more than 2300 times in journals, books and dissertations.100 invitations to deliver lectures at national and international conferences.
Grants: OTKA (6), FEFA (1), TéT (2), Hungarian-US Fund (1)
Awards
1983 D.Sc. Hungarian Academy of Sciences

1990 Award of the Federation of Technical and Scientific Societies

1990 Corresponding Member, Hungarian Academy of Sciences

1991 Member, Hungarian Academy of Engineering

1994 Titular Member, Académie Eurpéenne des Arts, des Sciences et des Lettres

1995 Pro Universitate memorial medal, Eötvös University Budapest

1996 Doctor Honoris Causa, Universitatea de Vest Timisoara

1997 Than Károly memorial medal, Hungarian Chemical Society

1998 Ipolyi Arnold Prize, National Scientific Research Fund

1998 BIOSCIENCE Prize for the best molecular biology publication of the year, Hungarian Biochemical Society

1998 Full Member, Hungarian Academy of Sciences

1999 Silver Medal, The Order of Knights of Malta

2003 Pro Universitate et Scientia, World Council of Hungarian Professors

2008 Golden Jubilee Medal, Hungarian Federation of Technical and Scientific Societies

2009 In memoriam Gábor Dénes diploma, NOVOFER Foundation

2010 EuCheMS (European Association for Chemical and Molecular Sciences) Award for Service.

2012 Hungarian Order of Merit, Middle Cross