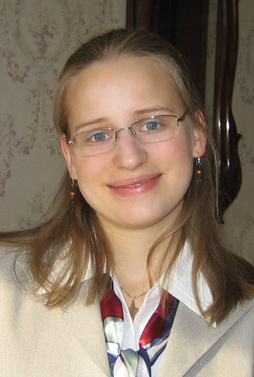 Bianka dr. Szalainé Ágoston PhD PhD Student, MSc
Address: H-1117 Budapest, Pázmány Péter sétány 1/A
Studies
ELTE TTK PhD. School of Chemistry, 2006-
MSc. in chemistry, Universität Wien 2000-2006.
Research
Intrinsically Disordered Proteins (IDPs) and chaperones, such as ERD14 (Early Response to Dehydration 14). Relationship of their structure/disorder to their chaperon function, analysed by NMR as well as various biochemical techniques.
Publications
Szalainé Ágoston B., Kovács D., Tompa P., Perczel A.: "Full Backbone Assignment and Dynamics of the Intrinsically Disordered Dehydrin ERD14" Biomolecular NMR Assignments (2011) 2: 189-193.
Kovács D., Ágoston B., Tompa P.: "Disordered plant LEA proteins as molecular chaperones" Plant Signaling and Behavior (2008) 3: 710-713.
Kovács D., Rakács M., Ágoston B., Lenkey K., Semrad K., Schroeder R., Tompa P.: "Janus chaperones: assistance of both RNA- and protein-folding by ribosomal proteins" FEBS Letters (2009) 583, 88-92.
Mohammed-Ziegler I., Tánczos I., Hórvölgyi Z., Ágoston B.: "Water-repellent acylated and silylated wood samples and their surface analytical characterization" Colloids and Surfaces A: Physicochemical and Engineering Aspects (2008) 319: 204-212.
Tollinger M., Kloiber K., Ágoston B., Dorigoni C., Lichtenecker R., Schmid W., Konrat R.: "An Isolated Helix Persists in a Sparsely Populated Form of KIX under Native Conditions" Biochemistry (2006) 45: 8885-8893.